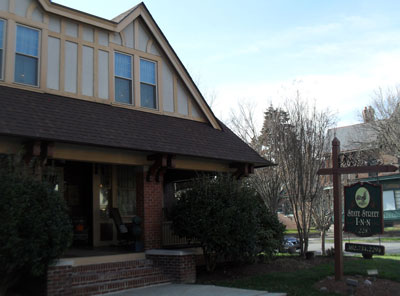 A $50 deposit (per room) is usually required to secure your reservation. The exact deposit amount may vary by date or rate type. Except for reservations during Firefly Festival and NASCAR race events, the deposit is fully refundable if the reservation is canceled at least 14 days prior to your scheduled arrival date. The deposit is also refundable in the event of severe weather* in Dover, DE on your arrival date. (*Severe weather is defined as an active Winter Storm Warning, Hurricane/Tropical Storm Warning, or government-declared State of Emergency.) If you must cancel on short notice, you may apply your deposit to a future stay. No refunds or credits apply for "no-shows" (guests failing to arrive for a reservation, without canceling in advance).
Check-in times: 3 pm - 8 pm. Late check-in is always available with advance notice. Early check-in is not possible; however, we are happy to store luggage for guests arriving early (with advance notice).
We require that guests provide an arrival time in advance. As a small, family-run B&B, we schedule our days around arriving guests. Providing an accurate arrival time helps ensure that your room is ready when you arrive, and that someone is available to greet you.
Check-out time: 11 am. Guests must vacate their room promptly on check-out day. If you're not ready to leave, we'll store your luggage for the remainder of the day.
Our entire building is non-smoking, including all guest rooms. Any indoor smoking will result in a $200 room cleaning fee. Smoking is allowed only in designated outdoor smoking areas.
No children under 10. (Younger children may be allowed if you rent the entire inn.)
Sorry, no pets allowed. If an animal is discovered in your guest room, a $100 room cleaning fee will apply. Link to policy on service animals
All rooms include one queen bed, and are designed to accommodate two guests. We have one rollaway bed, which allows a third guest in the Red Room or the Blue Room only. There is a $15 charge to borrow the rollaway bed, and it must be reserved in advance. Otherwise, please reserve additional rooms if you have a larger group. We also offer multi-room discounts, subject to availability. These discounts are not available online. If you need two or more rooms, please contact us directly. Multi-room discounts are not available during NASCAR races, Firefly Music Festival, Amish Country Bike Tour, or graduation/homecoming weekends at Dover High School, Wesley College, or Delaware State University.
All guest rooms are located on the second floor of our historic inn. We do not have an elevator; you must be able to climb stairs. As a result, we can't accommodate guests with limited mobility. Link to full accessibility policy
Government and Business Travelers: We honor the current government per-diem rate for people traveling on official state or federal business, and we are federally approved as "fire-safe" lodging. Proof of official travel must be provided at check-in, and certain black-out dates apply. Mid-week and extended-stay discounts may be available for business travelers; please email us your dates and rate requirements before booking.
Special dietary requirements: Vegan or Gluten-free: Please inform us at least 72 hours prior to your arrival. (Advance notice isn't required for vegetarians, since we always offer vegetarian options!) Other dietary requests (food allergies, etc.): We try to accommodate every guest, but we can't guarantee that we'll be able to meet every dietary requirement. Please call or email us to discuss your needs in advance.
Prefer to skip breakfast? If you don't want breakfast, just let us know. If your rate type included full breakfast, we'll apply a $10 refund to your bill (maximum of 1 credit per room per day).
Please note: We take food safety very seriously, but our kitchen is exempt from regulation under Delaware law. We are not inspected by the Delaware Division of Public Health.
Use of our facilities, including exercise equipment, is at your own risk. Supervision is not provided. Please use caution.
Guests will be charged for any furnishings, robes, towels, or bed linens removed from the inn.
Please safeguard your room key. A lock change fee will be charged for any lost keys.
No candles or incense for fire safety reasons. (Battery-operated, flameless candles can be placed in your guestroom by advance request.)