COVID-19 Update: Breakfast is currently served either outdoors, or by room service. You'll need to make your breakfast selections the night before, and we'll leave a tray outside your door at the time of your choice. We are offering a limited menu including egg dishes and waffles. A lighter continental or vegan option is available by advance request. If you don't want to eat in your room, we can also serve your breakfast on our front porch or back patio (weather permitting). When dining outdoors, please leave your mask on until after you are seated and served.
The rest of the information on this page applies to our standard breakfast service, which will return after the pandemic threat has passed. We apologize for any inconvenience or confusion.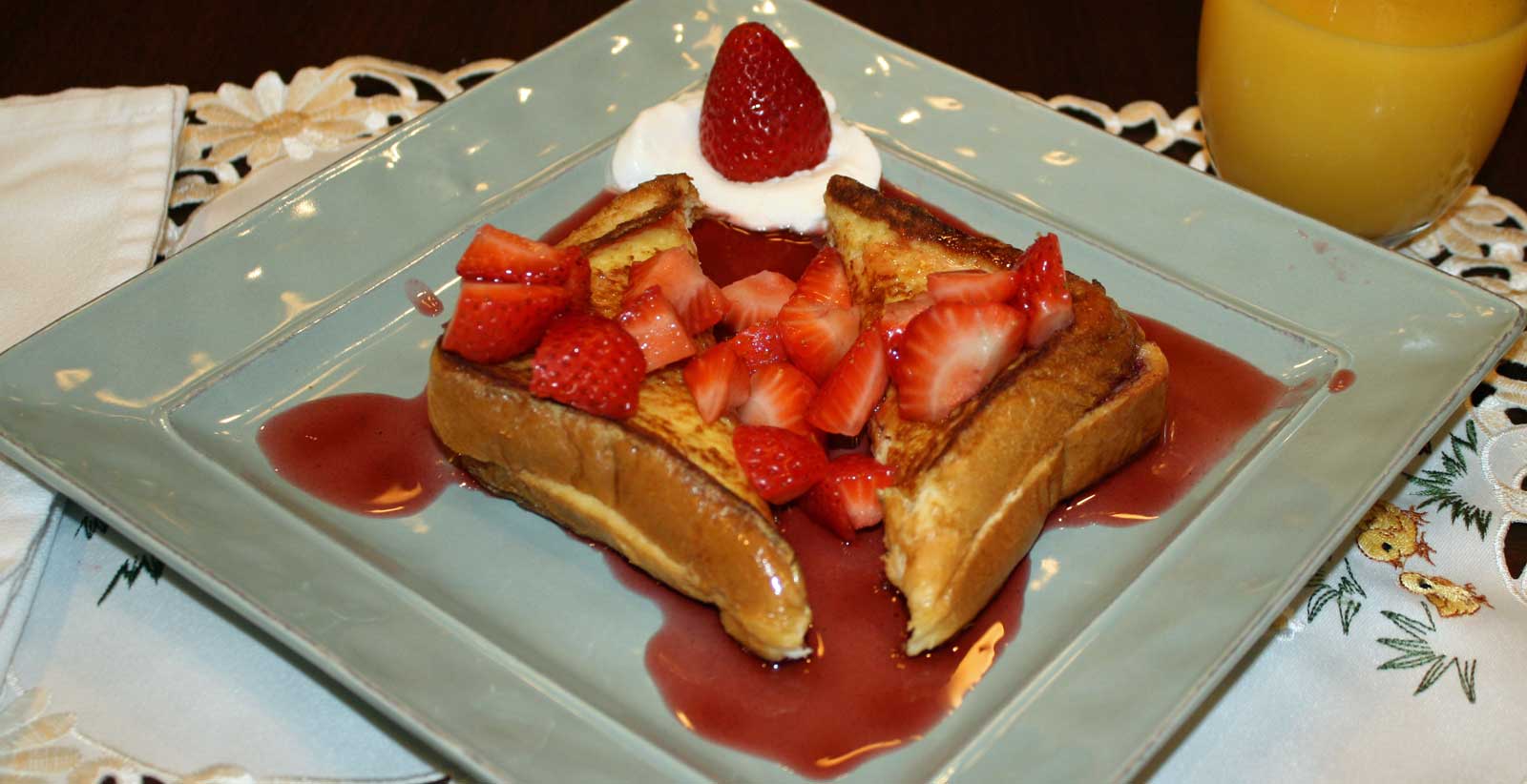 We always offer these breakfast staples:
Belgian Waffles
French Toast
Eggs, cooked to order (scrambled or fried)
Additional breakfast selections vary by day, and may include a breakfast casserole or made-to-order omelet.
During busy weekends, breakfast may be served buffet-style (instead of cooked-to-order).
Hot breakfast is available from 7:30 - 10:30 am.
In addition to our hot breakfast entrees, guests may choose additional sides, including:
Chicken or Turkey Sausage Links
Freshly-baked Cinnamon Rolls
Cereal or Instant Oatmeal
Yogurt
Fresh Fruit
Bagels and Toast
Hot drinks (coffee/tea/hot chocolate) are self-serve from a Keurig coffeemaker.
Cold drink choices include: milk (skim, 2%, whole, or almond); juice (orange, apple, grape, or grapefruit); water (filtered or bottled)
If you have any serious allergies or special dietary needs (including gluten-free), please contact us before your arrival. We offer a full vegan breakfast menu, including pancakes/waffles, breakfast sandwiches and omelets made with JUST Egg and Beyond sausage.
We use organic and/or local ingredients when possible. All eggs are sourced from cage-free suppliers.
Required Notice: Our kitchen is neither regulated nor inspected by the Delaware Division of Public Health. Under Delaware law, bed-and-breakfast kitchens are exempt from inspection, if the home is owner-occupied, the number of available guest bedrooms does not exceed 6, breakfast is the only meal offered, and the number of guests served does not exceed 18.