Hot breakfast is served in our dining room from 7:30 - 10:30 am daily. Room service and outdoor dining (weather permitting) are also available.
We always offer these breakfast choices:
Extra-Thick Belgian Waffles
Classic or Stuffed French Toast (Strawberry Stuffed French Toast pictured below)
Eggs, scrambled or fried to order
Omelets, with choice of fillings
Egg-and-cheese breakfast sandwich (express option)
Chicken or Turkey Sausage is optional with any breakfast choice
VEGANS & VEGETARIANS: We will happily provide a full vegan breakfast menu on request. (We use JUST Egg and Beyond Breakfast Sausage® in our vegan recipes.) All of our breakfast entrees are suitable for vegetarians.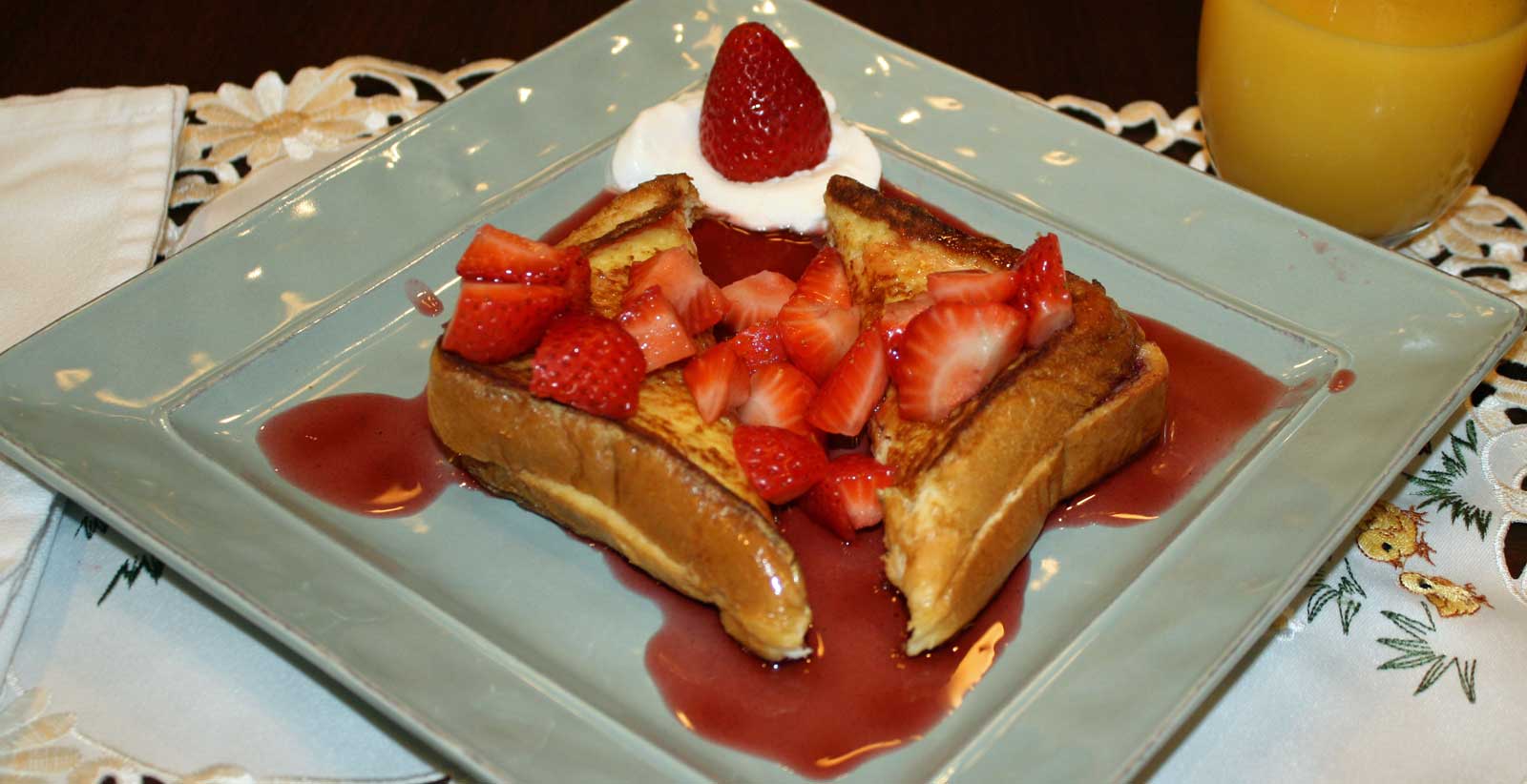 In a hurry? We can provide a "to-go" breakfast by advance request, with a breakfast sandwich, yogurt, granola bar, and fruit.
In addition to our hot breakfast entrees, guests may choose additional sides, including:
Freshly-baked Cinnamon Rolls (on select days)
Oatmeal
Yogurt
Fresh Fruit
Bagels or Toast
Hot drinks (coffee/tea/hot chocolate) are self-serve from a Keurig coffeemaker.
Cold drink choices include: milk (reduced-fat); juice (orange, apple, or grapefruit); and water (filtered tap or bottled)
If you have any serious allergies or special dietary needs (including gluten-free), please contact us before your arrival.
We use organic and/or local ingredients when possible. All eggs are sourced from free-range farms.
Required Notice: Our kitchen is neither regulated nor inspected by the Delaware Division of Public Health. Under Delaware law, bed-and-breakfast kitchens are exempt from inspection, if the home is owner-occupied, the number of available guest bedrooms does not exceed 6, breakfast is the only meal offered, and the number of guests served does not exceed 18.